Cleveland County Register of Deeds

Thank-a-veteran
Discount Program
Cleveland County Register of Deeds
Betsy S. Harnage, Registrar
WE ARE PROUD TO HONOR OUR NATIONS VETERANS BY PARTNERING WITH LOCAL BUSINESSES TO OFFER DISCOUNTS AS A TOKEN OF APPRECIATION FOR THEIR SERVICE.
View our participating businesses
Merchants Please help us honor our VetERANS
enter your business below
Photo ID cards
The Cleveland County Register of Deeds is providing Veterans with photo ID cards that can be used for discounts at participating businesses in cleveland County. The Veteran Discount Program is free to Veterans and to our business partners.
Sample ID Card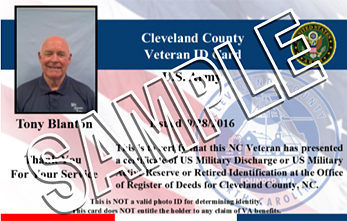 This is a Sample ID card. Your card may appear differently. We will be issuing these cards between the hours of 8:30AM-4:30PM, Monday through Friday at the Cleveland County Government Register of Deeds, located at:
311 E. Marion St., Shelby NC 28150
(704) 484-4834
To be issued an ID card, a Veteran will need to bring the following:

A valid state-issued driver's license or identification card;

Military ID card, etc. (it must have the Veteran's picture);

Veteran's original DD Form 214.

Note: If you have previously recorded your DD Form 214 here at our office, then we will verify we have it in our records before issuing your ID Card. If you have not recorded your DD Form 214 at our office you can easily record your original with us at NO CHARGE.
Local Businesses
Please Join Us !
DOWNLOAD MERCHANT ENROLLMENT FORM HERE
We are asking Businesses to Join the Effort!
The Register of Deeds encourages all Cleveland County businesses to participate. Please complete the online participation form as soon as possible.

Discounts may be a percentage of the sale or a specific dollar amount (both can be with restrictions). We are appreciative of any level of participation possible, and will send each business a decal to display showing our Veterans and your customers that you participate in this program supporting our Veterans.Disclaimer: The Veteran's Discount Card offered by Cleveland County Register of Deeds is issued for the sole purpose of receiving discounts from participating local businesses. It CANNOT be used as a valid ID for determining actual identity or residency. It is NOT issued by the U.S. Department of Veterans Affairs. It does NOT entitle the holder to any VA benefits. The discounts offered are determined solely by each merchant & are subject to change at any time. The Cleveland County Register of Deeds cannot guarantee that any discount is still being offered or the quality of the goods or services offered by any merchant.